Intolerance towards sexual minorities is still present today.
But let's be optimistic. If you are a member of the LGBT community and live in Europe, you have the opportunity to live a pretty good life compared to many other places on the globe.
There are countries in the world where homosexuality is dealt with by the death penalty (Iran, Afghanistan, Somalia) and countries where you are "just" arrested, convicted and imprisoned for homosexuality (most of the Arab world and most of North and East Africa). And there are even countries where minority sexuality is such a big disgrace that once your family finds out you're not heterosexual, they'd rather voluntarily give you up and report you to the authorities to be arrested and taken to a concentration camp where you'll be tortured (Chechnya).
All of the above are perfectly normal things that happen in the world, and it may be clear to us that whatever queer people experience in Europe or North America is extremely weak tea in comparison. But that doesn't mean that everything is cool outside of the country where you get arrested or killed. Even in "civilized" Central Europe, in many places there will be people who will stare at you unpleasantly or call you vulgar names. In Slovakia, there was even a recent case of a fanatical Nazi who resolved his frustration with the LGBT community by killing two random people in a bar in Bratislava.
Yes, even though there are countries where it is better compared to arrests and death sentences, aggression and hatred lurks well beyond legislation. It's embedded in people's brains, and you could say that if you're queer, you're guaranteed to be more at risk virtually anywhere in the world than if you're non-queer. Danger, in short, lurks everywhere, and especially people from the LGBT community and their supporters in the more 'civilised' countries (where they will understandably not be killed, arrested or socially ostracised) are trying to express their dissatisfaction with aggression and hatred, to point out double standards and to gain some extra rights so that they can feel just as free and safe in the world as others. They are going into the streets, protesting, writing various heartbreaking statuses about 'how they were attacked by those who are intolerant', using various symbols, etc.
Some people join these protesters, others find them annoying. The bottom line, however, is that as soon as a person makes something public (whether through symbols, verbal expressions or protests), he or she is creating some kind of social signalling. Signalling is undoubtedly a very important and interesting phenomenon (it produces particularly interesting morphs), but for the purposes of this article, let's leave signalling to signalling. We can't say that signaling in particular makes people's lives somehow significantly safer and easier.
It' s the technology that is an amazing tool for making life simpler. And this article will look at just how to increase your freedom and safety as you wander planet Earth — if you are a member of the LGBT community — to minimize the risk of assault or other threats.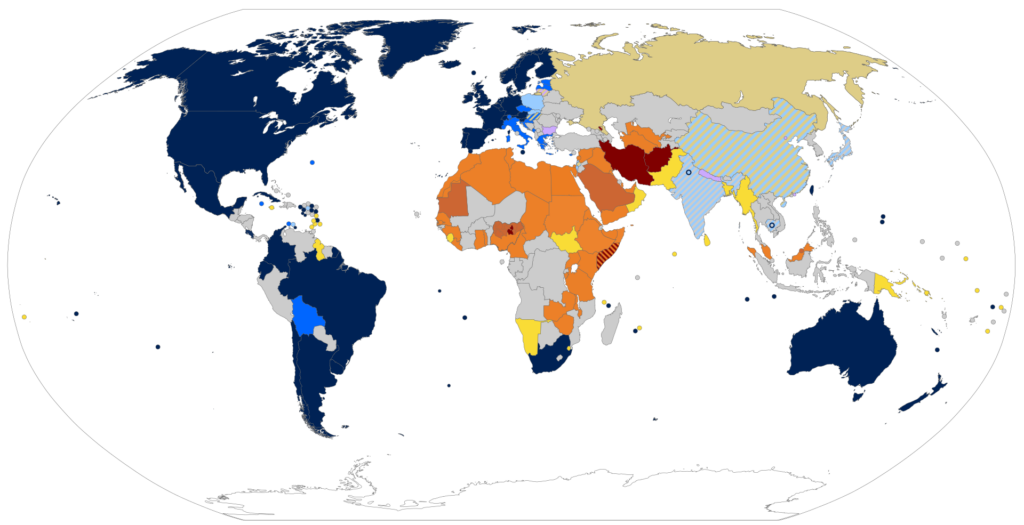 Travelling and Physical Safety
Knowledge of the laws of a country is certainly not everything. Even in ultra-safe countries, there are alleys that you'd rather not walk alone in the evening, and conversely, even in ultra-totalitarian countries, there are relatively safe oases that even Big Brother can't see into. It's a classic problem faced by many travellers — how do you quickly and efficiently find out where you feel safe and where you don't?
GeoSure
GeoSure is, in my opinion, a leader in the field of physical security. It is not just an app for world travelers, it is for virtually anyone in the world. And how does it work?
Based on your location (or the specific location you're looking for), the app will show you different safety "scores" in different categories. Members of the LGBT community will appreciate the "LGBTQ+ Safety" category, but GeoSure also offers categories including, for example, inappropriate or aggressive behavior towards women, physical violence, likelihood of theft, etc.
You can create a profile on GeoSure and contribute to the "scores" of each category by sharing your personal experiences with places you've visited, whether they're good or bad.
A score of 81 — 100 indicates an extremely safe area, and a score below 20 indicates an extremely dangerous area that is best to be avoided (however, you can see the specific meaning of each score directly in the app settings). For example, this is how GeoSure compares two cities — Amsterdam and Islamabad.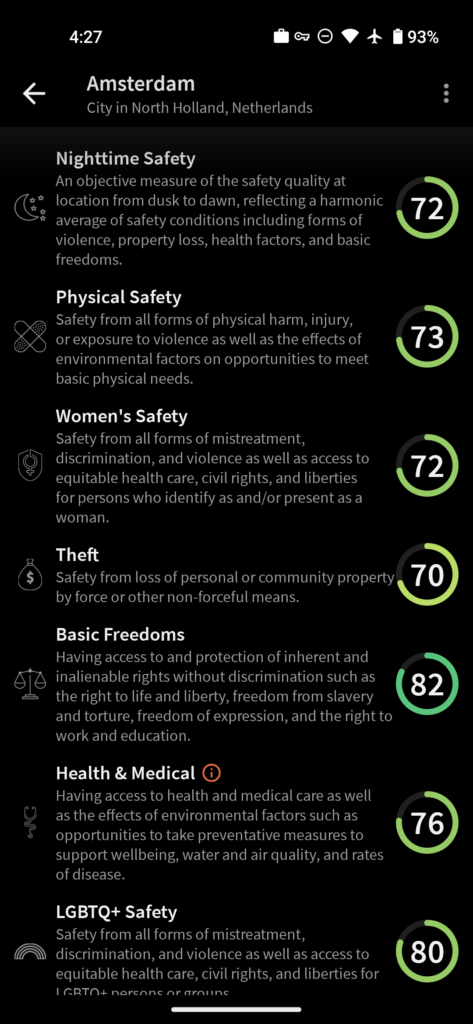 From my point of view, GeoSure is a very useful app that I would recommend to virtually anyone, whether you are straight, gay, male, female, a traveler or a non-traveler. Knowing the approximate likelihood of whether you will be robbed, killed or raped is always useful.
TripIt
TripIt is a similar app, except that TripIt is more focused on the travelling itself. TripIt is basically just a travel app that keeps all your travel plans with you.
TripIt is also smart enough to assist you on your travels with notifications. For example, it will notify you when it's time to leave for the airport so you don't miss your flight. It'll even send you an email with up-to-date information about your flight, like your gate number, before it even appears on the screens in the terminal (so you don't have to nervously push through crowds of people in the airport building to know "where you are flying from").
TripIt also supports syncing with booking confirmation emails, so you don't even have to bother with "making" travel plans — TripIt makes them for you. An interesting feature, but on the other hand certainly not very privacy-friendly for its users.
But how do you use TripIt to improve travel safety?
TripIt has updated its app following the GeoSure model, and provides its users with safety "scores" for specific locations as well.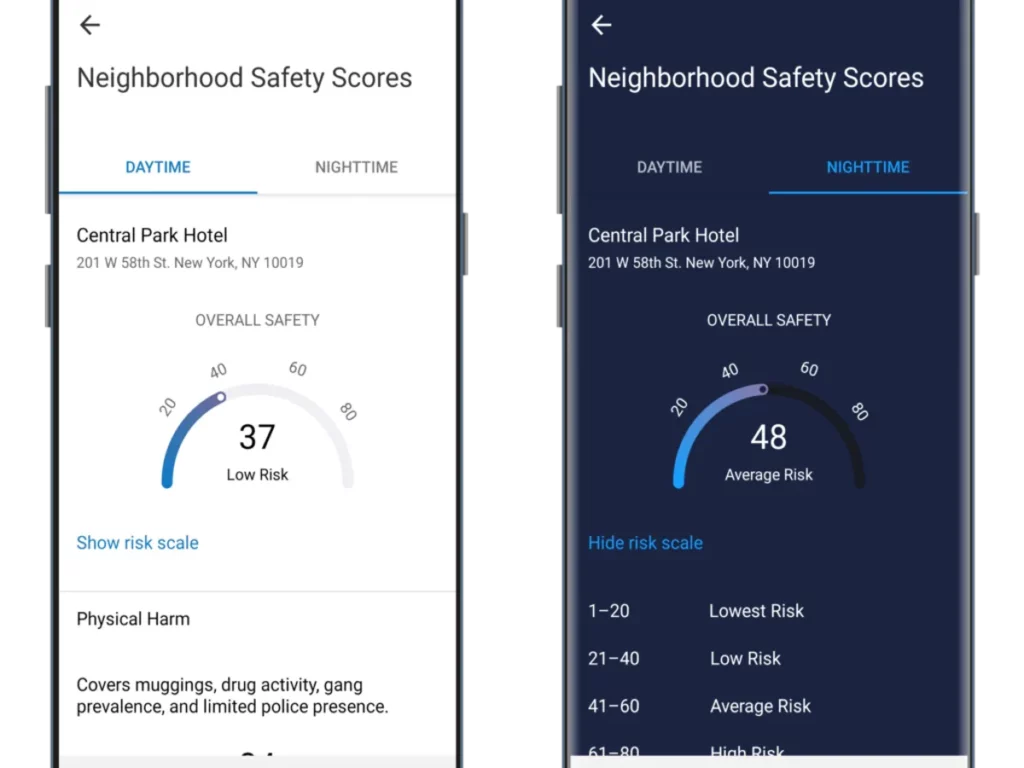 Of course, unlike GeoSure, TripIt has a lot of gadgets and features, but all of that comes at a significant toll, which is privacy. In contrast, you don't even need to create an account to use GeoSure.
Restaurants, Bars and Events
Safety in some geographical location per se is one thing, but finding specific spots for leisure is another.
There are a huge number of applications dedicated to integrating different types of maps, information, ratings and services, and new ones are being added all the time. So we'll just mention a few of the more interesting ones favoured by the queer community.
Arch
An interesting app is, for example, the Arch app, which is available exclusively for iOS.
Arch has two maps in total — one map helps users find LGBT-friendly restaurants, bars and events, and the other map is enhanced with "augmented reality" so you can see what's happening around you in real time.
Contact information such as social media, as well as photos and reviews posted by travellers themselves, are displayed at specific locations. The app shows you places recommended by users in the area and, if you have notifications turned on, it can also offer you discounts on food and drinks, for example.
Sonder
Sonder is a sort of geeked-out version of Arch, but it's also available for Android users.
In Sonder, you'll find a "social section" where you can browse a feed of photos and other users, as well as a travel guide and trip planning section (which also makes it a bit like the TripIt app). With Sonder, for example, you'll find content for some of the world's most popular destinations, along with phone numbers and useful links; for example, to the fire department, police, public transportation, and more. There are also recommendations, country phone codes, local currencies, time zones and weather.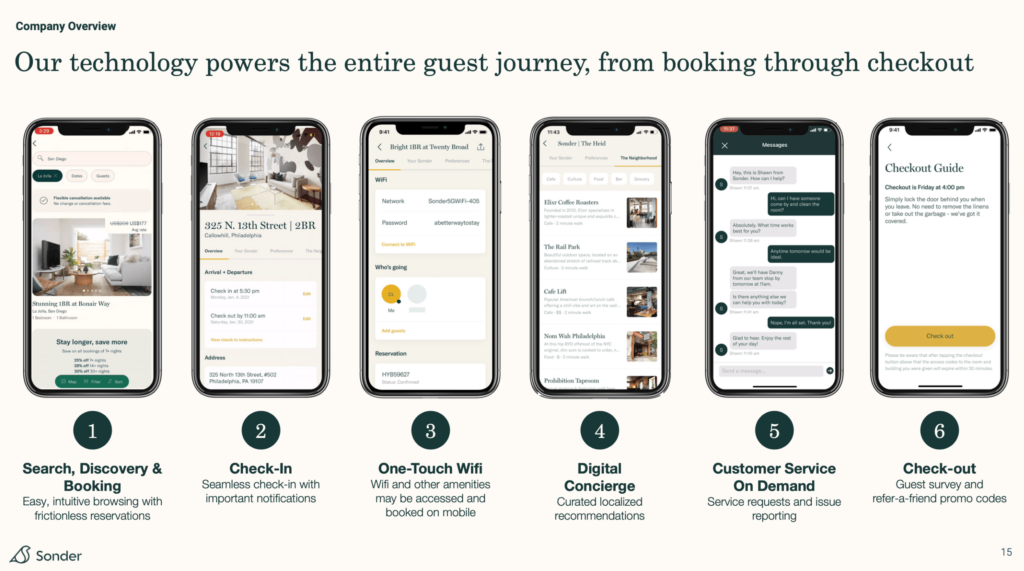 Sonder doesn't have a large number of destinations yet, but the ones it already has are described beautifully. The app also works great with the reputation system. You can also add comments and reviews to online guides as well as to specific places. In addition, you can find info and news about LGBT rights, artists and events in your area on Sonder. You can also plan a trip and invite your friends to it, with the app giving you accommodation and travel suggestions.
Spartacus
Spartacus is a bit of a meme. It's an app aimed at providing information about safety and ways to have fun. It shows the LGBT community's tolerance rating for each country grouped by continent. For each country, you can see information and history of LGBT rights, including policies and anti-discrimination laws.
You can also see a map and an alphabetical list of the most queer-friendly cities and regions.
For an Central Eropean, in my opinion, however, Spartacus works rather smilingly, and the data in its "safety" section isn't nearly as advanced as that of the GeoSure app. From my perspective, the app suffers from focusing on a narrow audience of the queer community, and because of this it has allowed itself to omit a great deal of relevant information (hence the meme). If it's still worth exploring for you, though, Spartacus also offers some pretty useful resources, such as flights, accommodation, food, and even the ability to offer your apartment for rent to other travellers. There's also paid content, which makes the app perhaps a little less of a meme.
Accommodation
If a queer person wants to find accommodation, perhaps he or she should ask a basic question — is Airbnb tolerant enough?
Of course, Airbnb has a strict anti-discrimination policy that prohibits users from refusing to host based on sexuality, race, and many other factors. How such a policy is applied in practice, however, is another matter entirely. Nothing prevents a homophobic host from rejecting two homosexuals outright and not having to give a reason.
Where Airbnb really falls short is in the absence of a "gay friendly" accommodation option, or at least the ability to enter "gay" as a keyword when searching for listings. As we already know, in many countries around the world, being gay is either illegal or a taboo that can get you in big trouble. In such destinations, there's no other option to search for gay-friendly hosts on Airbnb other than to ask them directly and hope they answer in the affirmative (or book and take your chances). Fortunately, though, there are apps that solve such problems as well. And that's a particularly nice thing, because such apps reach somewhere the state legislature can't see (and help to liberate people from oppressive laws) thanks to the reputation system itself.
Misterb&b
While GeoSure and TripIt are mobile apps for "regular" people, Misterb&b is something that was developed specifically for the queer community. It's actually kind of like a "Gay Airbnb." As the name suggests, it's an app for finding accommodation directly with LGBT hosts, or/and LGBT-friendly hosts.
It's possible to find private apartments as well as private or shared rooms. Reservations can also be made well in advance or even right at the last minute (some hosts may not approve your reservation in person). You can filter by price and equipment for your stay, such as WiFi, kitchen, laundry facilities and more.
EBAB
EBAB (Enjoy Bed and Breakfast) is a completely crazy piece of queer Airbnb industry. EBAB has been on the market for 20 years, is based in Berlin, but collects accommodation offers from practically all over the world. Plus, guests pay no extra booking fees here, making the app more convenient for travelers than most other sites.
EBAB also allows you to filter offers by preference and different price levels.
Rooms and apartments are well described with comments from other travelers, and some already include tips from hosts throughout the area as well and on what to do nearby.
Conclusion
We have the tools we need to play our part in creating a safe and tolerant environment instead of wasting energy. And far from being just for LGBT people, this is for everyone who does not want to live in an environment full of non-free, frustrated and aggressive individuals.
The need to create an isolated safe environment independent of the dangerous mainstream (i.e. a parallel environment) arises whenever there is a need for it. And it is the world of the internet and mobile applications that plays a key role in this. People create their own safe communities and can be "among their own kind" no matter how bizarre their preferences are.
(There are even bizarrenesses like the OurBible app, which aims to bring the LGBT Christian community together. It was founded by activist Crystal Cheatham in response to being told she couldn't be a lesbian and a Christian at the same time. The platform offers the largest collection of all sorts of devotionals, podcasts, and other media content that is pro-LGBT and not misogynistic.)
All things pass and evolution goes forward. We don't know what changes will come in the world of legislation and cultures, nor do we know what changes will come in the world of technology. Life, in short, is dynamic, which is why I don't think it's appropriate to spend it complaining that "something, somewhere, somehow is". For example, if you are a person who values freedom and non-violence (like me), wasting your energy on depressing yourself about all sorts of non-free and intolerant places is probably not going to do you much good. If you have a desired state in your head (e.g. freedom) you should be creating it in the first place, not complaining about its absence. And sometimes it takes very little indeed to create it; for example, just download a freely available app that's free.